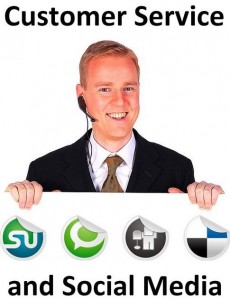 Bad service, hate it, spread it.
In today's market, social media is changing the face of customer service. With the global reach of the world wide web, a bad customer experience can overshadow years of hard work.  One negative post on a review site or being blasted out on Facebook & Twitter can substantially impact the possibility of attracting a new customer.  I read and write reviews about my experiences with businesses periodically and it is generated ultimately by emotion.   Either I had an incredible experience or an awful one.  It feels good to be able to voice your opinion about customer service you've received and to let my friends know about it as well.  Savvy business owners understand this dynamic and are responding to these posts.

Personally, I will never forget how slighted I felt when no one responded to a review I posted online about an experience that I had at a local doctors office.  I wanted to be heard and a simple 'we're so sorry for your experience' would have retained me and my family as patients.  I felt that by posting no response my business did not matter to them.   I am the average American who wants to be heard and I use the social media to do so. In order to be successful in today's market, businesses should be watching their social media accounts very closely.
As business owners, it is imperative to engage with your customers. Statistics show in this excellent article by Brian Solis that "people are willing to spend more for products from companies that have a history of good customer service or that deliver outstanding experiences."   Isn't that what we all want at the end of the day? We want our business to succeed and our customers to walk away feeling that their money was well invested.
Enjoy this article by Brian Solis:
http://www.briansolis.com/2011/11/how-to-make-cusotmer-service-matter-again/?utm_source=feedburner&utm_medium=email&utm_campaign=Feed%3A+briansolis+%28Brian+Solis%29